* After so many years of webbing I cannot change the nature of my webpages -- they are what they were from the start; notes, thoughts, points I make for myself for classes and productions. Do they have an independent existence? Maybe, somewhere in the future...
---
Mary Poppins Tickets
Wicked Tickets
Tarzan Tickets
Cirque du Soleil Tickets

[ advertising space : webmaster ]
---
Stage Directing Theory

Links
Featured Pages: Virtual Theatre (*)
vtheatre.net
act.vtheatre.net
direct.vtheatre.net
film.vtheatre.net
script.vtheatre.net
shows.vtheatre.net
web.vtheatre.net
method.vtheatre.net
biomechanics.vtheatre.net

Theory of Spectatorship Mailing List & News -- subscribe yourself *

2007 -- web year?
new -- google.com/groups

my eGroups

8+ ways to navigate & 5 ways to interact:

1. index pages -- top left
2. featured links -- right
3. hyperlinks within the text
4. my narrative -- "next" (at the bottom)
5. banners and images
6. search the site engine (right)
7. htmlgears
8. popup windows

1. guestbooks
2. htmlgears
3. my forums
4. online classes
5. email

* film-blog *

Oedipus review
Shrew poster

Unlike my other directories, this one is supposed to serve you all -- directors, actors, drama students. Besides the process of working on the shows, you can find scene and monologues for your classes and auditions, archives of the student-actors' character development (practical use of the Method Acting). There are pages for designers, who want to understand how Director's Mind works. Of course it's only my notes, often for myself (preporations for rehearsals or the next show). I do not have mailing list or newletter, if you want to stay intouch, you better subscribe to one of the forums I have.
Summary
* All rights reserved : No part of this publication (or related documents) may be reproduced or transmitted in any form (in whole or in part) by any means, electrical, optical or mechanical, including photocopy, recording or any information storage or retrieval system, without permission in writing from the publisher.
Limited Use : Permission is granted to access, view and download these documents from our web site under the following conditions: Documents must; (a) be for personal use [or for educational or teaching purposes], (b) must not be sold or otherwise used for profit and, (c) must be left intact, unaltered and be complete with all Headers, Footers and Copyright notices.
Questions
Actors, Producers, and Directors: U.S. Department of Labor Bureau of Labor Statistics [ Nature of the Work | Working Conditions | Employment | Training, Other Qualifications, and Advancement | Job Outlook | Earnings | Related Occupations | Sources of Additional Information ]

2005: Total Acting & Total Directing *

"Showcases" or director's books -- all are after 1998, when I began to do everything on the web. The shows I directed before 1999 have only archive pages (photos).
Notes
Film, Stage and Television Director ( Radio or Television Director ) * [ Duties and Tasks Quick Facts Personal Requirements Related Industries Labour Market Related Jobs Earnings Related Courses Qualifications State Specific Information ]

Let me repeat myself (from Film600 and script.vtheatre.net):

Where teaching and studying (research) meet --

Theme-thought, according to different playwrights (Shakespeare, Ibsen, Strindberg, Chekhov and so on) and directors (Fillini, Kurosawa, Tarkovsky, Bergman pages).

Connections with other themes (list): family, gender and sex...

Finally, my own practical investigations: shows.vtheatre.net (only recently I began to make themes pages, Don Juan 2003, for example).

And the nonfiction (writing), of course: HIM, Father-Russia, PostAmeriKa, Self, POV, Tech (gatepages are in WRITE directory).

Yeah, yeah, there is more -- "philo" pages, metaphysics: in theatre theory directory, for instance (topics-bar: space, time and etc.)
Plus, Virtual Theatre and Book of Spectator!

Web? Oh, this is just medium. Like stage, screen, writing...

2005 updates: Small Chekhov Fall * "Four Farces & One Funeral" -- Chekhov.05
Chekhov's one-acts are updated -- The Bear, The Proposal (1st act -- Oh, Love!), Wedding, Tobacco (Act II -- Ah, Marriage!), but I'm still working on the "funeral" (Last Day of Anton Chekhov). mini-chekhov
I am teaching DramLit -- groups.yahoo.com/group/dramlit (subscribe) and see THR215 for subjects, topics, titles.
Spring 2006 -- Waiting for Godot, Beckett -- new pages ( see shows )
Theatre Event (mini-form) *
Site: vheatre.net
Site Description: theatre and film classes, shows
Russian Pages -- antohins.vtheatre.net
sellassie 2005: history, culture, art of Ethiopia. "One man, one century, one world!" -- sellassie.vtheatre.net
Site Owner: Anatoly Antohin

Address: 3282 Adams Dr. apt 204b
City: Fairbanks
State/Province: Alaska
Postal/Zip Code: 99709
Country: USA
E-mail: anatolant@yahoo.com

Backwards and Forwards: A Technical Manual for Reading Plays by David Ball; Southern Illinois University Press, 1983 : - Part One: Shape - 1: What Happens That Makes Something Else Happen? - 2: And What Happens Next? - 3: But Do It Backwards - 4: Stasis and Intrusion - 5: Obstacle, Conflict - 6: Ignorance is Bliss (or: the Very Cause of Everyone's Lunacy About Hamlet) - 7: Things Theatrical - Part Two: Methods - 8: Exposition - 9: Forwards: Hungry for Next - 10: Missing Persons (character) - 11: Image - 15: Families - 16: Generalities: Mood, Atmosphere - 17: The Unique Factor - 18: Changing Eras - 19: Climax - 20: Beginnings/Endings - 21: Rereading - 22: What Next?
vTheatre Postmodern Project * 2006
Your Ad Here
...
and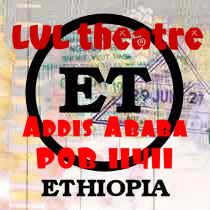 ---